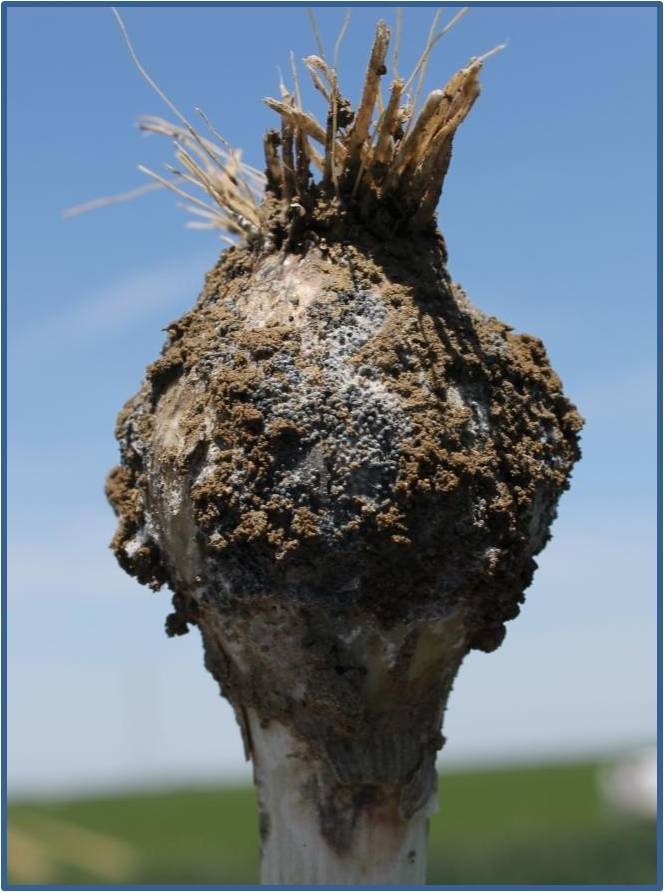 White rot is caused by the fungus, Sclerotium cepivorum, which survives for decades in the soil as poppy seed-sized resting structures. If soil temperatures are between 50o and 75oF, compounds produced by onions and garlic trigger the fungus to break dormancy. Infection results in a soft rot of the garlic head or onion bulb, which will produce a white fluffy growth and then the poppy seed-like resting structures. Very few resting structures (only two in about a pint of soil) can result in losses in these crops. Thousands of resting structures may be produced on each diseased plant. Therefore, the levels of this pathogen in the soil can increase very rapidly in fields with a susceptible crop, which is limited to onions, garlic and a few relatives. The resting structures are spread within a field with tillage equipment and are moved to other fields with anything that moves soil. It can also be moved into new areas on garlic planting material.
For many years, the primary approach to white rot management was avoidance of infested fields. However, there are now more than 21,000 acres known to be infested with this pathogen and it is in areas where garlic and onions are important crops so it would limit production of these crops to completely avoid infested fields.
Sanitation
Sanitation is an important approach to limit spread. Cleaning equipment between fields will not only reduce risk of movement of the white rot pathogen through a production area but also limit risk of other soilborne diseases. Planting white rot-free garlic planting material is critical in keeping the pathogen out of fields that are not infested.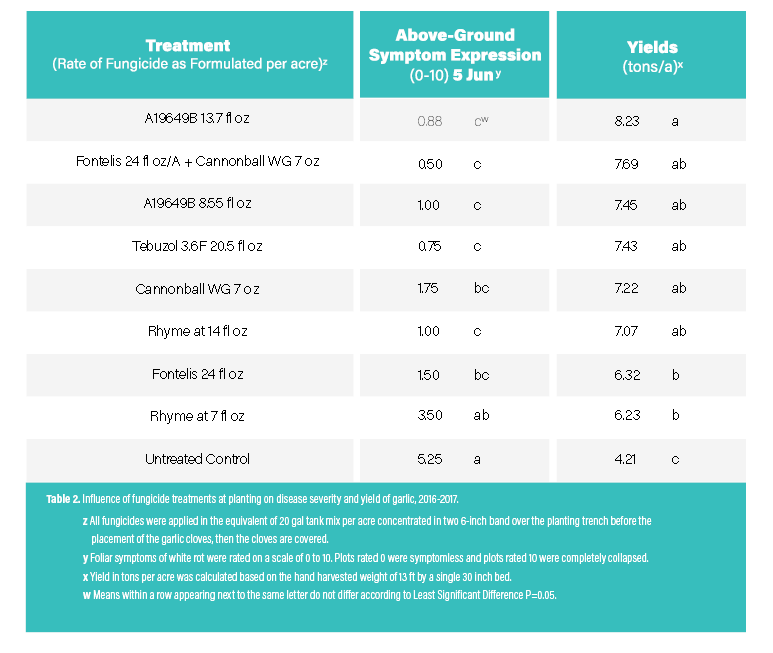 Disease Management
Several approaches to managing this disease hold promise. Metam applications can reduce soil inoculum levels but soil preparation and moisture conditions are critical in optimizing efficacy. Use of materials that emit compounds like those produced in the roots of onions and garlic to trigger germination of the resting structures in the absence of a host and starve out holds promise. However, additional work is needed to refine this approach for more reliable results than what has been observed experimentally. Research efforts now are focused on quantification and increasing concentrations of active volatile compounds in onion and garlic containing materials, identifying the levels needed to trigger germination and the specifics of effective approaches in applying these materials in the field.
Some fungicides applied in the trench where the planting material is dropped has consistently reduced incidence and severity of white rot. Fungicides applied through drip irrigation systems were not effective. Three years of studies were conducted in which fungicides were applied through drip irrigation systems with tubing either on the surface shallowly buried or buried at six inches and the treated plots were always the same as the untreated control.
Commercial Field Evaluation
During the 2016-17 and 2017-18 production seasons, fungicides were evaluated in a commercial field naturally infested with white rot in Fresno County. Fungicides in three conventional cate
gories were tested and in 2017-18, a non-living fermentation product with reported systemic acquired resistance activity was also included (Table 1, see page 13.) On 20 November 2016 and 11 November 2017, California late garlic was hand transplanted following the treatment of a 6-inch band of the trench into which the garlic cloves were dropped. The plots were rated on a scale from 0 to 10 with 0 being symptomless and 10 being collapsed. At maturity, 17 feet of each plot were hand dug and weighed, and per acre production was calculated. Data was subjected to Analysis of Variance and means were separated with Least Significant Difference P=0.05.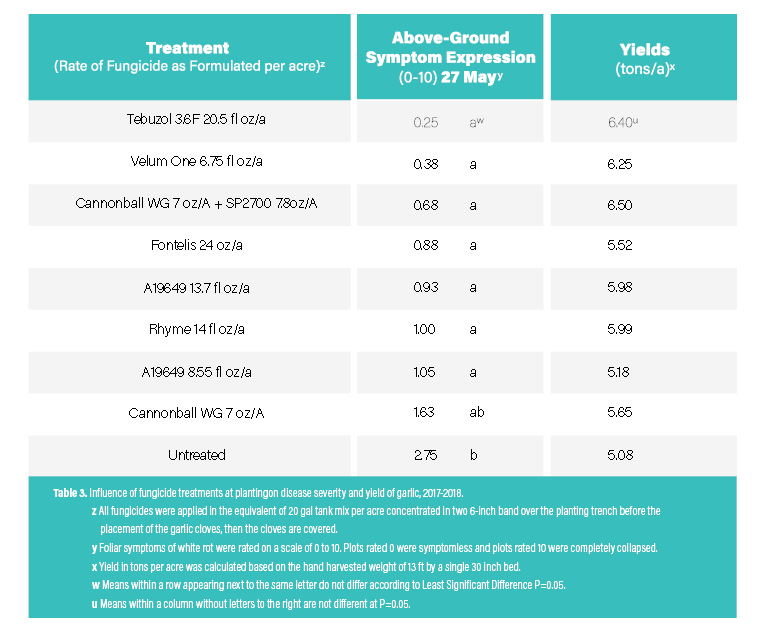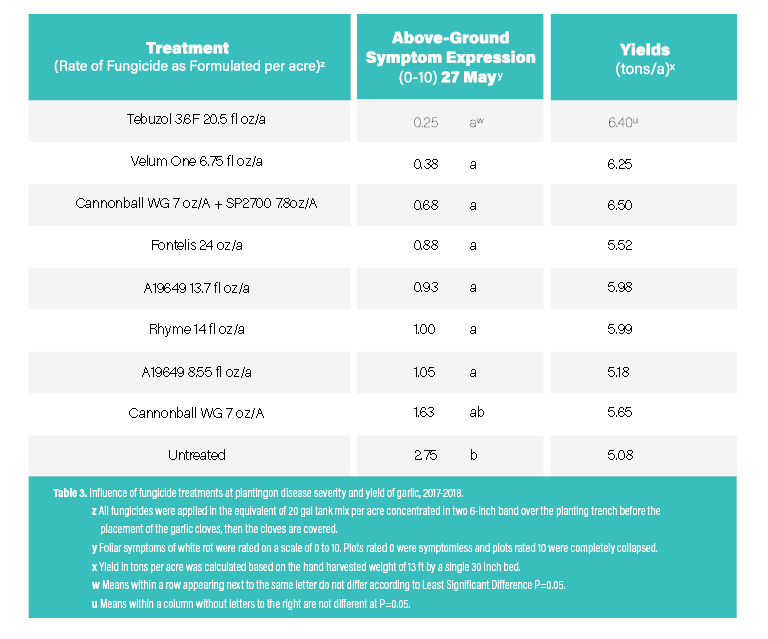 Under the conditions of these studies, most treatments had lower levels of above-ground symptoms than the untreated control. In the 2016-17 study, disease was severe and there were also significant differences in yields among treatments (Table 2, see page 14). The treatment with the highest yield was 95 percent higher (more than four tons per acre) than the untreated control. Disease pressure was lower in 2017-18 and there were no yield differences among treatments (Table 3). Tebuzol, Fontelis, A19649 and Rhyme 14 fluid oz/a consistently had lower levels of disease than the untreated control. Cannonball with SP2700 and Velum One demonstrated efficacy in the season that these materials were included in the test.
Fungicides are not intended to be the only approach to management of this disease and are not likely to provide commercially acceptable levels of control as the soil inoculum levels continue to increase. In addition, risk of the pathogen becoming resistant to the fungicides increases with increased and repeated use. Fungicides in three different groups have now consistently demonstrated efficacy and trials are underway evaluating different approaches to management of this production issue.
The research mentioned in this article was supported by the California Garlic and Onion Research Advisory Board and by industry donors.