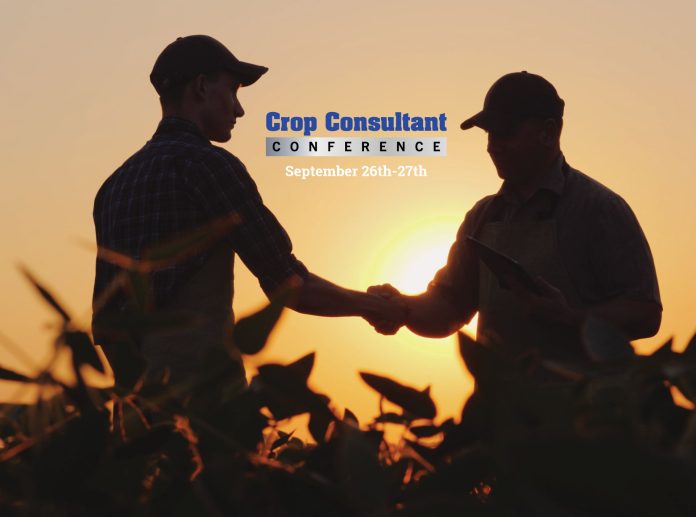 The inaugural Crop Consultant Conference will be a gathering place for all who are dedicated to caring for California specialty crops.
Pest control advisors (PCA), certified crop advisors (CCA), applicators and agriculture retailers are all invited to participate in this two-day event, September 26th – 27th in Visalia.
September 26th – 27th in Visalia
This event at the Visalia Convention Center packs a full menu of educational workshops and seminars, professional networking opportunities plus multiple hours of PCA and CCA credits into 24 hours. The program begins at 1 p.m. on Thursday and concludes after lunch and a final speaker, at 1 p.m. on Friday.
The workshop and seminar topics at the CCC have been chosen to help all crop advisors keep informed about new regulations, pest and disease control and management updates, label information and new technologies. In addition to the educational component, this conference will feature an early evening mixer and networking opportunities to be followed by a full gala dinner and entertainment.
Why Attend?
"Where else can a PCA or CCA get that many hours of credit, receive useful information plus meals and entertainment and not have to drive long distances?" says Jason Scott, publisher of West Coast Nut, Progressive Crop Consultant and Organic Farmer magazines and host of this event.
"This event is right in their back yard, where specialty crops addressed in this conference are grown. It is designed to present the 'big picture' of specialty crop production, innovative technology, regulations and challenges here in California," Scott added.
Citrus
Greg Douhan University of California Cooperative Extension (UCCE) area citrus advisor for Tulare, Fresno and Madera counties, said the conference will be a valuable forum to communicate important research and information regarding many aspects of various crops grown in California. Agriculture industry personnel, PCAs, CCAs, and so on and so forth, benefit from these meetings tremendously to keep abreast of the latest challenges that face California Agricultural producers.
Douhan, whose territory includes a major portion of California's citrus belt, will be one of the featured conference speakers and will present current information on HLB and Asian Citrus Psyllid management.
Aerial Drone Technology
A presentation on aerial drone technology is also expected to drive attendance.
Chris Lawson, Business Development Manager for Aerobotics, will speak on optimizing integrated pest management (IPM) and nutrient management using drones.
Agronomist Nick Canata with Ingleby USA/Eriksson LLC of Visalia reports that the CCC agenda looks interesting, especially the drone technology presentation. His company, he added, is presently using aerial flyovers to obtain irrigation information.
Mating Disruption
Crop advisors who are evaluating their mating disruption choices will hear a panel of experts that includes United States Department of Agriculture (USDA) researcher Chuck Burks, Dani Casado chemical ecologist with Suterra and Peter McGhee, research entomologist with Pacific BioControl Corp. This panel will evaluate mating disruption as part of an IPM program.
Soils
Thursday's program starts on the ground with sustainability specialist Richard Kreps who will explain how to get the most out or your soils.
Kreps, with Ultagro said making soils work at an optimal level requires a quite a bit of dedication. Attacking it from all sides: amending, nutrition applications, increasing organic matter, biology and proper irrigation require a lot of coordination. The upside is orchard longevity, higher returns with less disease and pest pressure.
Paraquat Guidelines
Thursday's education agenda ends with new EPA guidelines for 2020 for Paraquat closed transfer system. Speaker will be Charlene Bedal, West Coast regional manager with Helm AGRO US.
Trade Show and Mixer
The conference mixer and trade show begin at 5 p.m. Thursday, and dinner will be served at 6 p.m. The keynote speech will be Trécé on the Future of Navel Orangeworm Management and Solutions. At 7 p.m., Las Vegas entertainer and illusionist Jason Bird will perform. One of the most innovative and prolific minds in the magic industry, Bird continuously advances the boundaries of his craft while making connections with his audiences. Bird will also perform small group illusions during the trade show/mixer.
Friday
Friday morning's agenda kicks off at 7 a.m. with breakfast and a presentation by Patty Cardoso of Gar Tootelian on keeping growers compliant with local and state regulations. The trade show opens at 7:30.
Friday's topics include A New Approach to IPM by Surendra Dara, UCCE entomologist; a panel discussion major crop pests affecting specialty crops; and an update on labels.
To register for this event and see a complete agenda, Click Here.