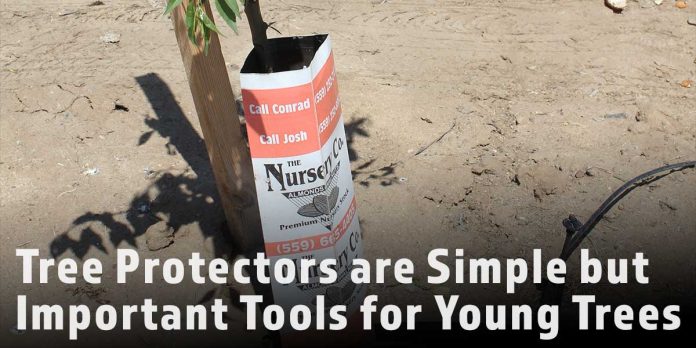 Protecting newly planted almond trees from herbicide damage, sunburn or vertebrate pests can help ensure a healthy, productive tree at maturity. There are products that nurseries provide to protect new trees and others that growers choose to purchase for specific uses. Which product to use and how long it should be left in place are important considerations.
Paper cartons that come with the bare root or potted trees from the nursery are the most frequently used tree protectors. Coated with a waxy type material or plastic film, the paper cartons primarily serve as a barrier to herbicides sprayed down tree rows.
Luke Milliron, UCCE orchard advisor in Butte, Glenn and Tehama counties, said there is concern that the paper cartons could disintegrate before the new trees are hardened off and resistant to herbicide injury. On the other hand, leaving paper cartons on the tree too long can also pose risks. In UCCE's Sacramento Valley Orchard Source, Milliron noted that the paper part of the carton can disintegrate over time, but the coating can hold moisture on the tree trunk. Long-term moisture on the trunk can present the possibility of a Phytophthora infection. Milliron stressed that any trunk protector that keeps the tree trunk wet for a prolonged period is a risk for disease. Even if the carton does not disintegrate, leaf litter can accumulate inside the carton and hold moisture against the trunk or crown of the tree.
Milliron noted that white paint on the tree trunk alone does not protect young almond trunks from herbicide damage. The carton provides the protection from herbicide damage.
The recommendation from former UCCE Advisor David Doll, The Almond Doctor, is to keep cartons on through the summer of the second year for protection for the late spring burn down. That leaves an opportunity to remove them before debris and tree growth makes it difficult.
Cliff Beumel with Agromillora Nursery said other products that provide protection are also available. Taller versions of the carton protectors at 18 inches use the wax type coating but are not as wide as the conventional cartons. Grow tubes, a plastic product, are used with smaller trees. These can provide longer protection from herbicide or other injury and are less likely to trap moisture against the trunk. They come at a higher cost but can be re-used.
Another variation is plastic protection that is white on the outside and black on the inside. Beumel said their cost may be lower, but labor is required to place them on the trees. They do not stay consistently wet and pose less problems for disease infections. One of their main benefits is these protectors block the sun and prevent suckering.