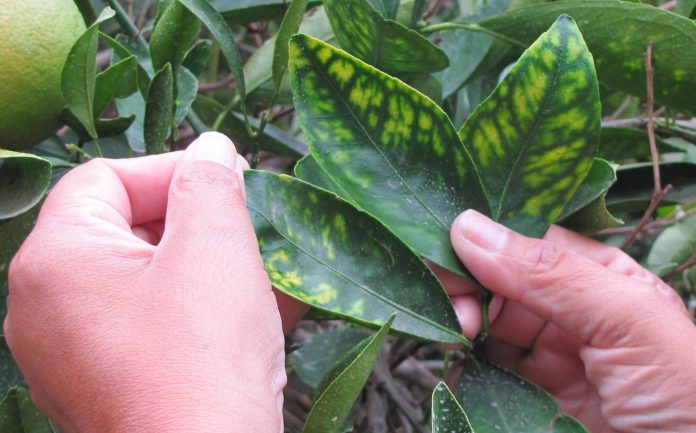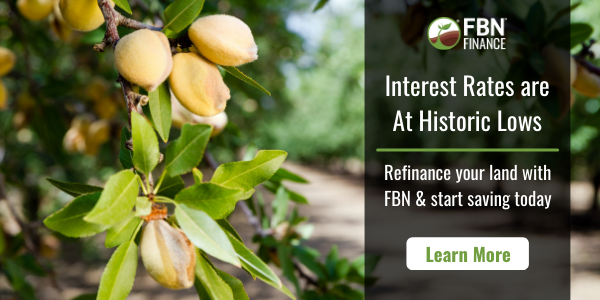 Citrus Research Board reports that in addition to visual inspections, regular treatments and scouting for Asian Citrus Psyllids, growers are conducting routine testing of leaf samples to positively identify Huanglongbing (HLB) infection in a tree. The testing involves direct detection of the bacteria that causes HLB.
CDFA has provided leaf collection and handling protocols. They include a visual assessment of each tree to be sampled and looking for known HLB symptoms. Searching for and collecting symptomatic leaves when possible is recommended. If yellow shoot symptoms are present, 12 leaves from that branch should be collected. The petiole must be attached to the selected leaves. If yellow shoot symptoms are not present, the entire tree should be inspected for other HLB symptoms, including leaf mottling, twisted leaf ACP damage and vein thickening.
Next, the tree should be divided into four quadrants (north, south, east and west), and four leaves should be collected from each quadrant for one sample. Leaves selected should be young and of medium size, one growth period old and as near to flush as possible.
If no symptoms are present in the tree, select 16 leaves, four from each quadrant, from fully expanded current season flush. Wipe or brush leaves to remove dust and debris and check each sample to ensure there are no thorns and all insects and their life stages are removed.
Next, fold each sample at the mid rib. Wrap the folded bundle of leaves in a dry paper towel and place the sample in a zip-lock plastic bag. The bag should be labeled with the unique sample identifier number, the date collected and the exact location of the host tree, including address, cross street, city and county. The labeled bag should be placed inside another zip-lock bag and placed in an ice chest with blue ice packs to keep the samples cool.
CDFA notes that it is essential to place protective material between the ice packs and samples to ensure they stay dry and do not get freezer burn.
The agency also emphasizes making sure no ACP are with the leaf samples or inside the package.
Growers or orchard managers must mark the trees from which the samples came from for retesting purposes. If any samples test positive for the bacteria, CDFA will be notified and will contact the grower to resample.
Currently, the Citrus Pest Detection Program (CPDP), operated by the Central California Tristeza Eradication Agency, is permitted to provide HLB testing services of plant samples from growers throughout the state, except in HLB quarantine areas, via mail. However, growers located in the San Joaquin Valley can request CPDP representatives take samples from their orchard for testing rather than mailing.
Samples can be sent to the Citrus Pest Detection Program at Attn: PCR Laboratory 22847 Road 140 Tulare, CA 93274. The Tulare laboratory director, Subhas Hajeri, would like to speak with growers or PCAs before they bring samples to the lab. The phone number is (559) 686-4973.