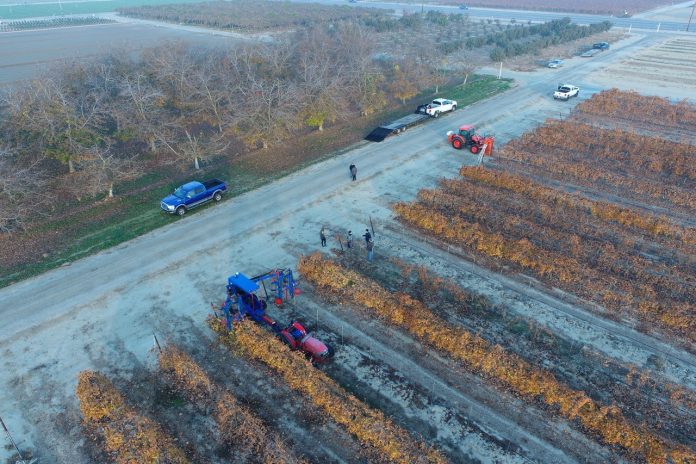 Mechanical pruning operations continue to increase in San Joaquin Valley wine grape vineyards as a way to save on labor costs. Dormant pruning, suckering and leaf removal in vineyards can all be done mechanically.
George Zhuang, UCCE viticulture farm advisor in Fresno County, in a presentation at the San Joaquin Valley virtual Grape Symposium, said existing trellis systems in vineyards can be converted to mechanical pruning systems and retain production and fruit quality.
The most common trellis systems in San Joaquin Valley wine grape vineyards have been two-wire bilateral cordon, "California sprawl," and quadrilateral, and both can be adapted to mechanized pruning, Zhuang said. The single high wire system is the standard system for mechanization.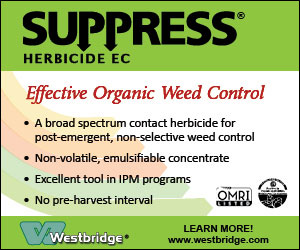 Recent trials have looked at differences in cordon height and how that affects vineyard production. Transitioning existing vineyards to a single high wire system has been most successful for mechanized pruning operations. This trellis system has a single high wire at 62 to 66 inches in height, is single canopy, non-shoot positioned and has around 35% exposed leaf area. Production is at 18 to 24 months and yields are 11 to 24 tons per acre with 7×10-foot spacing.
Zhuang said the other trellis system in use in vineyards where mechanized pruning is done is the quadrilateral. This system has a divided canopy and a higher percentage of exposed leaf area. Production depends on variety and spacing of vines.
Setting up the box size is important in mechanized pruning. The spur height sets the height of the bearing surface. Precision pruning is four inches, while 6- and 8-inch set ups may require some hand pruning to keep from overloading the vines as the bearing surface increases.
Two Fresno county trials were done to compare single wire height in trellis systems for winegrapes. Vines were planted in 2017 and hand pruned the first year of production in 2019. In 2020, vines were mechanically pruned. Heights tested were 68-inch cordon and 52-inch, the classic "California Sprawl" height. First yields were comparable in both systems. Sugar (measured by Brix) was increased in the high wire system due to more leaf area, Zhuang said. Water use was lower in the higher wire system.
He said the trial would continue to determine if there are significant differences as the vines mature.
Availability of mechanical pruning custom operators may be a limiting factor going forward. The machinery is a significant investment more suitable for larger acreages. Smaller growers would need to hire a custom operator. Zhuang said he has seen efforts by winegrape growers to design and build their own pruning machinery.