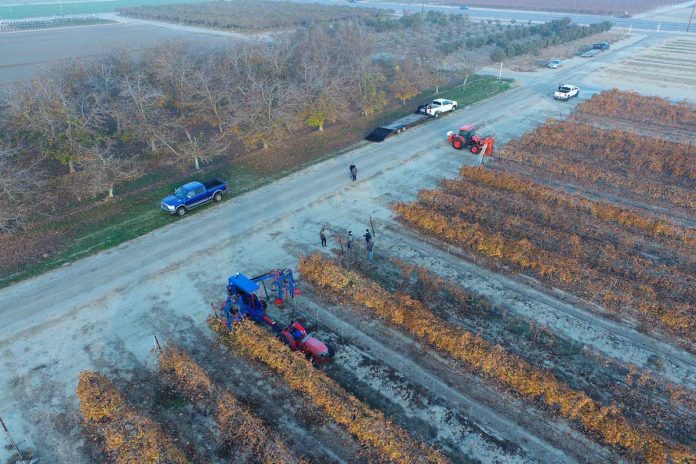 Dormant pruning in winegrape vineyards is one of the most labor-intensive practices with an estimated 80% of labor costs accrued in pruning and harvest operations. Labor cost and availability have accelerated the planting of new vineyards to accommodate mechanical pruning, said Fresno County UCCE Viticulture Advisor George Zhuang.
"Almost all new vineyards in Fresno County are now designed for mechanical pruning," Zhuang said.
He also noted that mechanical pruning operations in vineyards have had no negative effect on grape yield or quality. In some cases, he added, yields and berry quality have increased.
Mechanical pruning in table grape vineyards presents more of a challenge due to their trellising system. But Zhuang said progress is being made toward that goal. Raisin grape growers have also been moving toward mechanical pruning due to labor shortages. Delays in harvest have led to crop damage from early rain events.
In winegrape vineyards, mechanical box pruning entails pruning the grapevine's bearing spurs from the top, bottom and sides of the canopy. Box pruning is not as selective as hand pruning, leaving all the nodes within the perimeter of the cuts, but box height and width can be manipulated by the machine operator. A pre-pruning pass may leave a 0.3-meter-wide by 0.4-meter-tall box and is recommended in frost-prone areas. A more precise pruning pass may leave a 0.10 to 0.15 box.
Types of mechanical pruning include minimal pruning to develop high numbers of clusters, pre-pruning and mechanical shoot thinning follow-up.
With minimal pruning, the high numbers of clusters would be balanced by early growth of numerous vegetative shoots. The result is high yields with smaller clusters and berries.
Pre-pruning leaves a 0.40-meater-tall by 0.10-meter-wide box retaining 120% to 200% of the desired number of buds. After bud break, the desired shoot density is achieved by manual pruning or shoot thinning.
With mechanical shoot thinning follow-up, dormant canes are mechanically pre-pruned to 0.1-meter-wide by 0.3- or 0.4-meter-tall, retaining 120% to 200% of the predicted bud load. After bud break, the desired shoot density is achieved by shoot thinning.
Hedger bar pruners are mostly used in minimal pruning applications in the dormant season, for summer pruning or as part of combination pruners. They have a single plane of cut and low penetration into the dormant canopy.