The 'delicate' issue of reporting branched broomrape infested tomato fields continues in California.
Infestations of this parasitic weed in tomato fields can severely decrease yields because the weed attaches to tomato plant roots and extracts water and nutrients.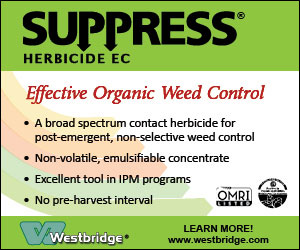 Gene Miyao, retired UCCE farm advisor from Yolo, Solano and Sacramento counties, said control options for branched broomrape are limited and expensive. The potential exists for spread of branched broomrape from field to field via equipment and field workers. Severe infestations of this weed occurred in Sacramento County in 1959. The California processing tomato industry responded with funding to begin an eradication effort which lasted for two decades. The program ended with successful control of the broomrape weed. Eradication was possible with the use of the fumigant methyl bromide.
Branched broomrape is classified in California as an "A" pest, an organism of known economic importance,and is subject to enforced action, including eradication, quarantine, regulation, containment, rejection or other holding action.
Extent of the branched broomrape infestation in tomato fields is not fully known, Miyao said. It has been reported in several tomato fields north of Stockton in recent years. Consequences of reporting an infestation to a county agricultural commissioner is complete loss of the crop without harvest within the infested area of the field. Miyao said not reporting an infestation also has consequences. At risk is the likelihood of increased spread of this weed and further crop loss in the future.
Research by UCCE weed specialist Brad Hanson found that emergence of broomrape occurs during early tomato fruit set and continues over a 10-week period. Attempts to hand weed broomrape can reduce the problem as it prevents seed production, but the weeding crew must carefully bag all shoots and stay out of uninfested parts of the field to contain the spread via seed. The hand removal must continue almost weekly for an extended period. Branched broomrape produces large amounts of tiny seeds, and seed set occurs within a week of emergence. Shoots of this weed are often hidden by the tomato plants and can go undetected.
Miyao said a grower who chooses to knowingly harvest through a broomrape-infested area will spread the seed down the row and will risk spreading seed across the field including into other fields. A grower who unknowingly harvests through an infestation is equally at risk.
The California Tomato Research Institute sponsored an herbicide trial to control branched broomrape in tomatoes. The trial in an infested field used two herbicides not currently registered for use in California. Compared to a successful Israeli program, it has not been as effective in the California trial. The herbicide rates and timing will be modified in the 2021 season. Miyao said this control program would be helpful, but if even a small percentage of the weed escapes, the seed bank in the soil will increase.
Miyao said an effort to eradicate this weed while the number of impacted acres is limited would be more cost effective than waiting until the infestation is widespread. The issue for the California processing tomato industry is that CDFA rates branched broomrape as a class "A" pest, which creates the 'quarantine-like' conditions of a no-harvest. Allowing the weed to not be under CDFA regulation could potentially cause substantial crop loss from this parasitic weed without an adequate control program.