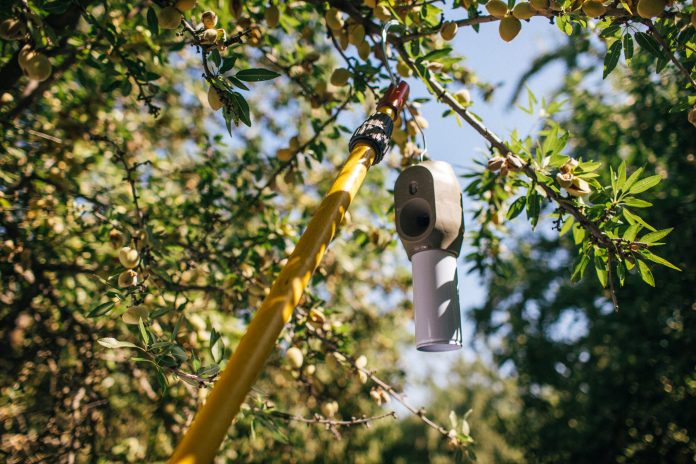 Suterra's aerosol puffers that dispense pheromones for mating disruption in California tree nut, stone and pome fruit orchards will have a different look starting this season.
Zak Clark, senior manager for engineering and quality at Bend, Ore.-based Suterra, described some of the improvements made in their puffers to improve durability and performance.
"We worked to make these stand up to the orchard environment, so growers could depend that they were working throughout the season," Clark said.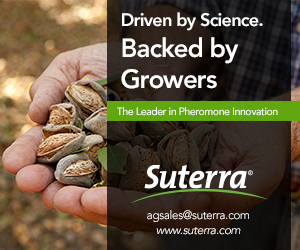 Suterra has been making aerosol puffers and their own cans for over 10 years. Clark said they have been collecting, diagnosing and refurbishing puffers for almost that long, and in the process determining how to make them better.
"The goal is to get the pheromone out at the right dose at the right time, regardless of environmental conditions," Clark said. "We want a precision dose for every shot it makes throughout the season.
"We consider it a catastrophe if the can empties early or doesn't deploy at all due to clogging or mechanical defects. That is not acceptable."
Clark said the gear train will deliver puffs for an entire season with only 2 AA batteries that can withstand environmental conditions including heat.
The dispersing device is a key component in the puffers and Clark said the aim was to make them lighter in weight, with a sealed compartment and a one-step power on feature. The technology includes a patented cam drive for dispensing, and a thermostat to make sure pheromone is released at the right temperature. The sealed compartment protects the electronics and gear from heavy rain, residues and dust. The sealed head unit prevents jams and friction from contaminants.
In addition to improved durability, there is now a single button to simplify deployment. The device is also lighter and uses 60 percent less plastic. The lighter weight allows for more movement in the tree canopy to reduce drop. Growers will get a new unit every year, with spent devices recycled at the customer's convenience.
The new design will be applied to all Suterra's Puffer products in California, including NOW-Ace, CM-O Pro, OFM-O, and CM/OFM Pro. The pheromone formulation and application rates are the same as previous seasons. The product itself has not changed, the performance and ease of the dispersion vehicle has, Clark said.