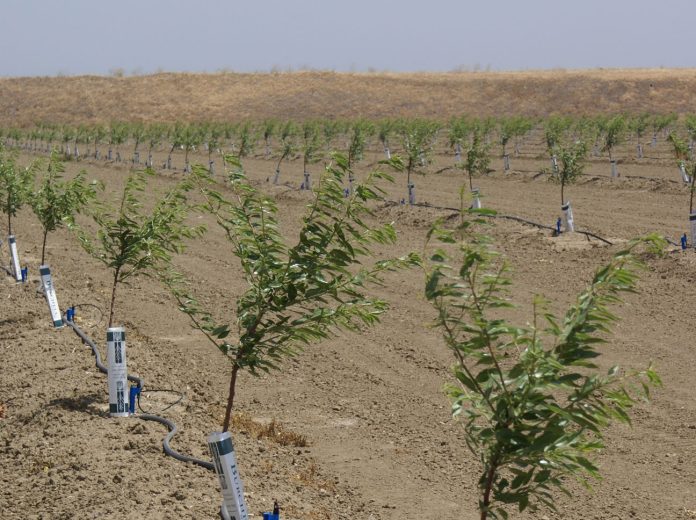 Applying a mix of latex paint and water to young almond tree trunks has been the standard protection practice against herbicide damage. Research done at Nickels Soil Lab in Arbuckle last year showed that a hardening off period prior to herbicide applications provided better protection.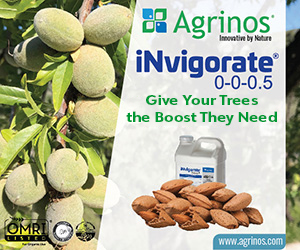 Former UCCE orchards advisor Dani Lightle and UC Davis graduate student Drew Wolter initiated the trial in 2019 and Wolter is continuing the study this year. Wolter said he was surprised to see the level of protection that a hardening off period provided compared to the paint application.
Weeds competing with young almond trees for water and nutrients can impact the long-term production of the orchard. Standard practice has been to apply white latex paint to the lower two to three feet of the trunk prior to applying herbicides. The young, tender bark of the trees that have been covered by a carton since planting is especially vulnerable to systemic and contact herbicides.
The trial used low and high rates of glyphosate and glufosinate or a mix of the two for weed control. The herbicides were applied in second leaf almond orchards with different levels of trunk protection including unpainted trunks which had been hardened-off for nine weeks, fresh paint, old paint and cartons.
Results from the trial showed that tree stress caused by trunk applied systemic and contact herbicides was lowest in the cartoned and unpainted treatments where tree trunks were allowed to harden off for nine weeks. Wolter observed that hardening of the green and tender tree bark after the protective carton is removed provided the best protection from herbicides. When the newly exposed bark was sprayed with an herbicide, Wolter said, the result was tree stress with wilted canopies and tissue damage. In the trial, trees treated with top of label rate tank mix of glyphosate and glufosinate had 4 to 22 percent greater trunk damage than trees that were not painted.
Wolter said the most effective trunk protection option for young almonds is to use a carton. When it is removed, waiting nine weeks before applying an herbicide is recommended. A practical strategy for controlling weeds and protecting young trees is to apply the herbicide early in the spring before the protective carton is removed. If necessary, a second application of herbicide can be made nine weeks after carton removal. Hardening off is crucial, Wolter said, and is best done in late spring or early summer.